As someone who owns her own online business, I can work from anywhere, and I love exploring pockets of America that are oogle-worthy! Right now I'm spending some time in Oil City, P.A. - one of the last places you'd think to vacation, but always at the top of my list. Not just because of the vibe and scenery, but there's a precious lady here named Grandma who I love to visit.
Where to Stay
Stay at the quirky and fascinating
Deep River Guest House
, an AirB&B run by artist Margaret Brostrom. She will introduce you to the creative side of Oil City! The
Artist Relocation Program
is helping artists like herself relocate and purchase some of these beautiful Victorian homes around every corner - boosting the economy and ensuring Oil City stays grand despite its aging population. She knows about all the festivals, art shows, and cool places to visit.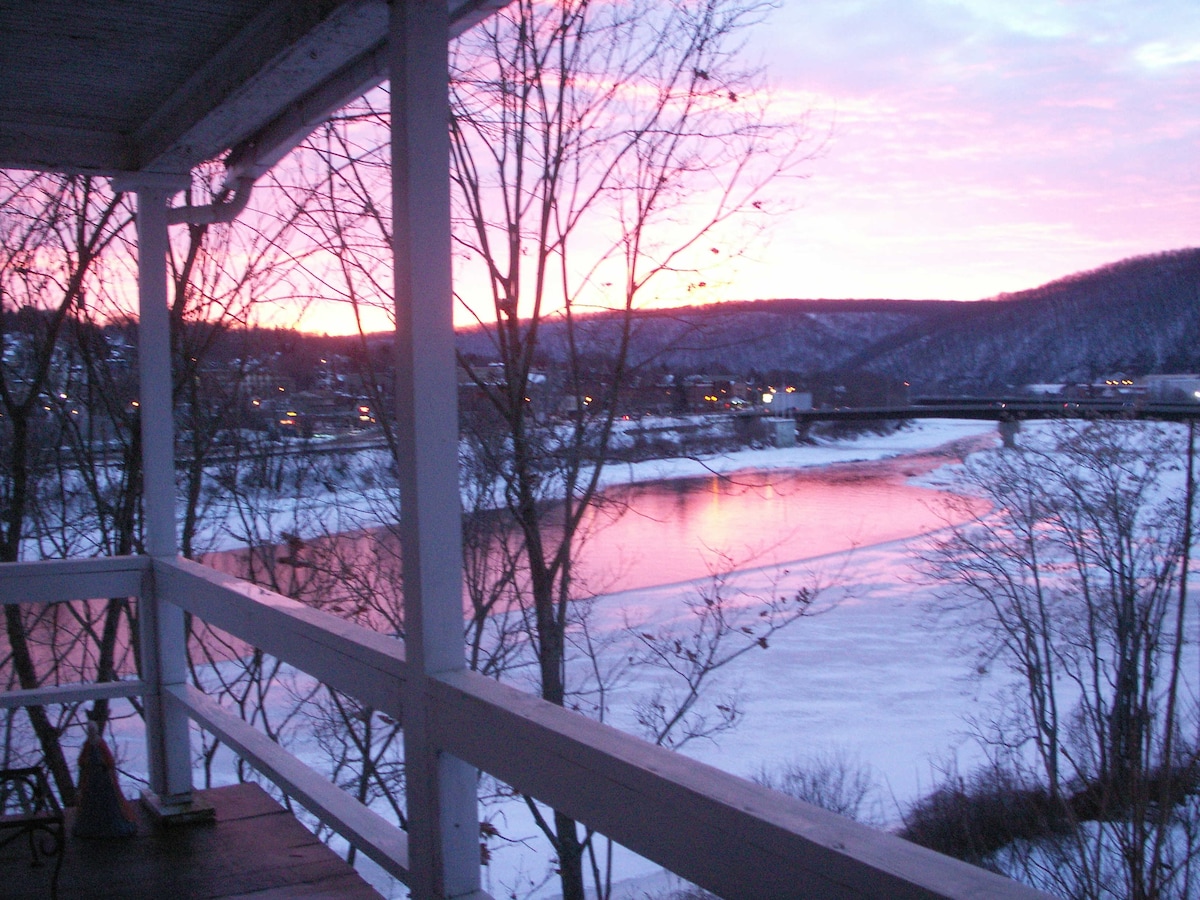 Get $25 off your stay
with Margaret (or any AirBnB) through
this link!
Let her know you're interested in relocating to Oil City through the Artist Relocation Program and she'll give you an extra 10% off too.
What to Seed
Between art openings, explore the
Latonia Theatre
and then go for a walk, enjoying mansion after mansion - all historic grand dames of the oil boom.
Buy one for cheap
and stay awhile!
Where to Work
Get a cup of coffee at Spilling the Beans, where you'll get free wifi. It's also nice on a break to stroll over to the library and take a look around the memorial byway. In Spilling the Beans, I have found an oasis. I like to come here when I visit Grandma, and am never disappointed. I enjoy a delicious Chai Latte made right, and my husband orders a Vanilla Latte that's too good to share with me.
Great biscotti too! Small on the inside with a little shop with neat little do-dads, like crocheted espresso shotglass warmers.
Where to Eat
I eat at my Grandma's, but beyond Spilling the Beans I've also loved Mosaic Cafe which recently closed. I'm looking for new places, so if you know of anything special please leave me a comment!
---
I hope you'll take some time out to explore Oil City. It's a great stop on your way to Buffalo, NY or Boston. If you decide to go, please send me a note and say hi to Margaret for me!